Bicycle helmets come in all sizes, from extra small to extra big head size options and everything in-between. Discover the best bike helmet for large head shape and protect your noggin from impacts.
Your search for helmet models for big, large, or wide heads will probably end here.
And here's why.
This is a down-to-earth review of the best bike helmet for large head in 2022.
No, I've not tested every model on the market (is that even possible?). But I've tested quite a lot and I'm sharing the best options in this review.
You can save yourself time, effort, and money, by going with my recommendations. Or go ahead with trial and error as I did in my early cycling days.
But trust me; you don't want to throw away your money!
Let's dive right in.
| IMAGE | PRODUCT | DETAILS |  rating | price |
| --- | --- | --- | --- | --- |
| Best Overall | Giro Cinder MIPS Adult Road Cycling Helmet | | | |
| | BELL Sixer MIPS Adult Mountain Bike Helmet | Small, Medium, Large, X-Large | | |
| Preimium Pcik | Bontrager Starvos WaveCel Cycling Helmet | X-Small, Small, Medium, Large, X-Large | | |
| | Giro Radix MIPS Men's Mountain Cycling Helmet | Small, Medium, Large, X-Large | | |
| | Giro Register MIPS Adult Recreational Cycling Helmet | | | |
| | ABUS Bike-Helmets Urban-I 3.0 | Small, Medium, Large, X-Large | | |
Review of the Best Bike Helmet For Large Head
Giro Cinder MIPS Adult Road Cycling Helmet
Giro Syntax tops my list and that's not too surprising.
The manufacturer is a leading name in the bike helmet industry, and its Cinder model is a top contender.
You'll want to choose this option if you have a fairly bigger head measuring about 59 to 63 cm. It offers a nice fit, especially for round heads.
Like many newer Giro bike helmets, it comes with a Roc Loc 5 fit system. That means adjusting the helmet to get the perfect fit according to your head circumference is pretty straightforward.
For its primary function, it protects your noggin well enough with the Multi-directional Impact Protection System (MIPS).
There's zero chance of overheating with this lid on your head. Not with 26 Wind tunnel vents and internal air flow channeling.
Besides, this is the best bike helmets as it's constructed using injected ABS technology. That makes it very light and comfortable, even if you wear it for extended periods.
Pros
Integrate MIPS technology
Excellent ventilation
Lightweight design
Highly adjustable fit system
Cons
Might not work well for oval head
BELL Sixer MIPS Adult Mountain Bike Helmet
Aerodynamic, stylish, and comfortable: these words sum up the Bell Sixer mountain bike helmets.
Bell designed this model to comfortably hold your noggin inside a sort of roll cage that's made up of high-quality EPS foam liner.
Protection from rotational impact? The MIPS got that covered.
The extra-large size of this mountain bike helmet can fit head circumference between 61 and 65 cm, making it an excellent pick if you're looking for an XXL bike helmet or mountain bike helmet.
You might have one or two grips with Sixer, but sweat is definitely not one of them.
With 26 vents, 4 brow ports, and a sweat guide pad designed to pull moisture away from your face, there's no chance of getting all sweaty!
As you may have guessed, Sixer is anything but cheap. But don't let the price tag scare you as these are one of the best bike helmets on the market now.
I once made the mistake of opting for two cheap bike helmets because I was trying to save money. They didn't fit quite right, but I hope they'll work fine after a while.
Unfortunately, they didn't and it was already past the return window. Finally, I gave them away and bought one expensive model. I ended up spending twice as much trying to save money.
Moral of the story: don't make the same mistake!
Pros
Three-way adjustability
Integrates MIPS technology
Wide selection of colors
Pulls sweat away from brow
Cons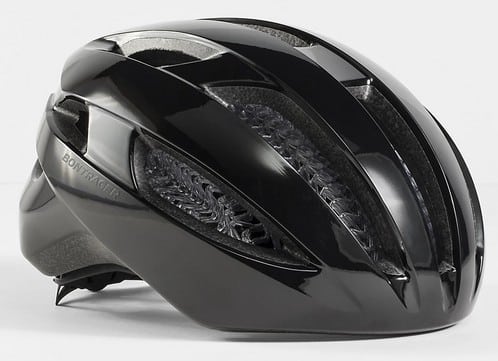 Bontrager doesn't just make the best bike helmet for large head. Its Starvos WavelCel model works for even those with the smallest heads.
But for now, let's focus on the X-Large size.
There's no marketing hype here. Starvos is one of the largest bike helmets for big heads on the market. It can fit heads up to 66 cm, which is really big.
There is little to no chance of sweating with this helmet over your head. A total of 14 vents allow adequate airflow to keep your head cool, even on warm days.
Just in case you sweat a lot, the padding is great at wicking away moisture. Plus, it is removable so you wash and keep it fresh.
You can easily adjust the height and circumference with one hand. And that's all thanks to the Headmaster fit system.
There's only one downside.
The XL size weighs 385g, so it is not a featherweight. That's a small trade-off, though, considering its large size and price point. Definitely one of the best bike helmets for people with big heads.
Pros
Extra-large helmet fits heads 60 to 66 cm
Easy to adjust height and circumference
Removable and washable padding
Crash Replacement Guarantee in the first year
Cons
Not the lightest option at this price point
Giro Radix MIPS Men's Mountain Cycling Helmet
MTBers will easily fall head-over-heels for the Giro Radix.
The large option fits 59 to 63 cm heads quite nicely. And if you want something bigger, the helmet also comes in an extra-large option that works great for heads measuring 61 to 65 cm.
Unlike many other large bicycle helmets, Giro Syntax built this model to be lightweight without compromising durability and impact head protection.
You can comfortably wear this big head size helmet all day without getting tired.
This mountain bike helmet features the Roc Loc 5.5 fit system. This makes it easy to adjust the vertical position and tension on the go without unnecessary fumbling.
Rid a lot during the daytime?
The POV visor will shade your eyes from the sunlight. And even in the scorching sun, Radix has 25 Wind tunnel vents to keep your head cool.
Bottom line: have this Giro XL bike helmet size on your radar if riding on dirt paths and trails appeal to you.
Pros
Highly adjustable fit system
Full coverage helmet
Adjustable POV visor
Withstands extreme conditions
Cons
Doesn't hold eyeglasses well
Giro Register MIPS Adult Recreational Cycling Helmet
Here's another great Giro XL bike helmet that'll work great for 58 – 65 cm head circumferences. I've included this option for those who want an affordable option without compromising quality.
Remember my not-so-pleasant experience with the cheap bike helmets? That's because I confused cheap with inexpensive.
And many people make the same mistake.
Giro's Register might be the least expensive option on this list, but it is anything but cheap and might be one of the best bike helmets for riders. It comes with many of the features you'll find in high-end models, including MIPS technology
It even has a detachable visor!
Performance-wise, Register's full hardbody offers excellent impact absorption. Plus, other road users can see you with the bike helmet on because of its highly reflective accents.
It's difficult not to recommend this for anyone looking for a great bike helmet for large heads. At its current price point, the Giro Register is a steal!
The only downside I can think of is the shape. The helmet is more on the oval side, so it might not work well if you have a very round head.
Pros
Removable visor
Great price point
Low profile, compact design
Adequate ventilation
Cons
Might not fit large, round head
ABUS Bike-Helmets Urban-I 3.0
What's there not to love about the Urban-I 3.0 helmet from ABUS?
It has a universal fit, making it
You'll find the universal fit of the extra large bike helmets size quite suitable if you're in the market for the best bike helmet for extra-large head.
But that's not all.
The helmet works well for ponytails, too, just like the Giro Chronicle helmets! It comes in handy for many women who like to wear their hair long with a bike helmet.
And if you ride in the dark or poor light conditions, the LED light at the rear of the bike helmet will allow other road users to see you from a distance.
That's in addition to the highly reflective surface of the lid.
To make buckling a tad easier, the helmet comes with magnet straps. Put them close together and they snap into place with zero fumbling!
Plus, it has adjustable straps so you can adjust it in just about every direction.
The only quibble I have with this model is the visor.
First, it is too small to make any real difference. Secondly, it's difficult to detach – probably because it wasn't designed to be removed, in the first place.
Other than that, if you want a helmet with LED light and large size option, the Urban-I 3.0 is a great all-round helmet, suitable for both men and women with long hair and large heads.
Pros
High visibility, LED rear light
Ponytail compatibility
Good breathability
Magnetic straps
Cons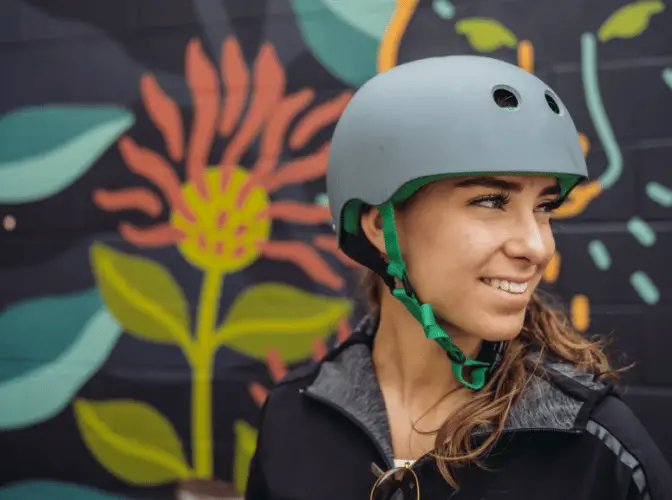 Buying Guide for the Best Bike Helmet for Large Head
How do you pick one out of all the best bike helmets on this list or any other list for that matter? Since all are tagged "best," how do you know the right one for you?
Obviously, the right size isn't enough criteria to help you decide. Two equally great bicycle helmets might come in the right size for your head.
Keep the following in mind when making your buying decision.
Material and Construction
You'll find a ton of results if you run a quick internet search for the best bike helmet for large head (or any head for that matter!).
Before you get carried away with all the eye-catching designs, be sure you're buying a model with excellent construction.
Most good-quality options have an outer shell, inner liner, and adjustable straps.
The type of materials for the inner liner will vary depending on the brand. These usually include nylon, expanded polystyrene (EPS), metal mesh, and more.
Whatever you go with, make sure it won't cause skin irritations or even trigger any skin allergies you may have.
Also, you want to make sure the helmet meets the Consumer Product Safety Commission standard for impact protection. Be sure the helmet's documentation says it is CPSC compliant.
More: Best Bike Helmet For Ponytails And Long Hair
Fit
Although you are in the market for the best bike helmet for big heads, you don't want a model that's too big.
Want to know if a helmet is too big?
It will feel loose even after you've fully tightened the helmet straps.
Too loose and the helmet might even rub against your skin and cause friction rashes. Worse still, the lid can easily slide in front of your eyes!
That's something you don't ever want to happen when you're on the move.
On the other hand, you shouldn't be forcing a helmet onto your head. It is a clear indication that the outdoor gear or headgear is too small if you have to squeeze yourself into it.
Too small and you might end up with a reduced peripheral vision, headaches, and even shortness of breath.
In a nutshell, loose and small helmets are both the wrong fit. Avoid bicycle helmets with poor fit no matter the eye-catching the design. They will compromise your performance and safety in the long run.
Choosing a bike helmet for wide or big head means going with a model that hugs your head but does not squeeze it.
You don't want it to sag forward or tilt back. Instead, it should sit comfortably on your head without feeling awkward.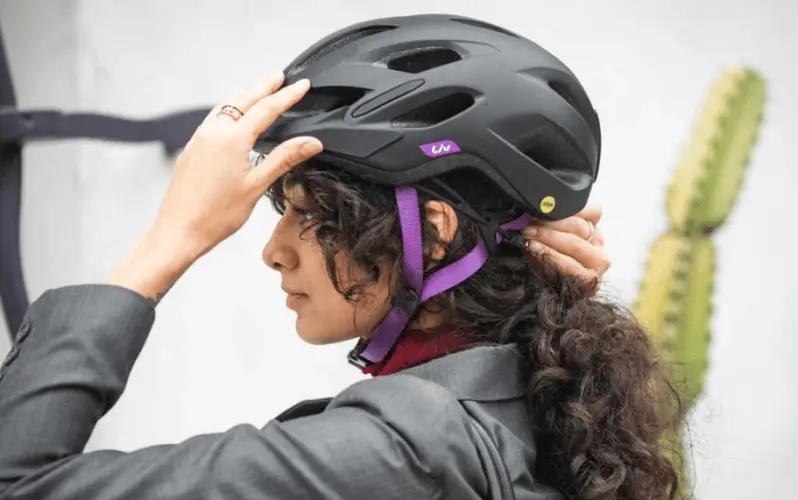 Comfort Level
Keep an eye out for a helmet with strategic padding.
Pads are not only meant to cradle your head. They also wick away sweat and many of them are made from sweat-absorbing materials.
It's even better if you can find models with removable and washable pads. This way, you can keep them clean and fresh.
Choose a cycling helmet that offers adequate ventilation.
You don't want your head to overheat during long or vigorous rides. That means you want to choose a helmet with plenty of vents and large openings or air channels for letting the air flow inside the helmet.
Here's one more thing to consider in terms of comfort level: chinstraps.
Consider going with options that have a low profile on the side that comes in contact with your skin.
The last thing you want to worry about while cycling is pinched skin or chafing!
More: Best Bike Helmet For Seniors On the Market
Protective Features
Before you pick a helmet, it's great to consider the protective features it has. At the end of the day, the sole purpose of helmet is head protection!
Wait, what?
Yes, I know. It might sound redundant to look for "protective features" in a product that's specifically designed for "protection," to begin with.
Indeed, all helmets are made to shield noggins from impact.
But here's what I mean by protective features.
You're not just looking at the mold construction. Instead, consider other additional protective features like micro-structures inside the shell or fused layers.
If you ever get into a crash, these features will absorb the impact. That's another way of saying you'll feel less force to your head.
What's more?
Micro-structures reduce the overall weight of the headgear.
For extra protection, it is usually a good idea to opt for a cycling helmet with Multi-directional Impact Protection System (MIPS).
As the name suggests, these types of helmets offer better protection against rotational impact.
And if you plan to ride in poor light conditions, it makes sense to go for helmets with excellent reflectivity.
Find a bicycle helmet you like but lack a great visibility feature?
Here's a quick workaround.
Buy visibility stickers! They are cheap and easy to fix on your helmet.
More: What Is The Best Bike Helmet For Bald Head?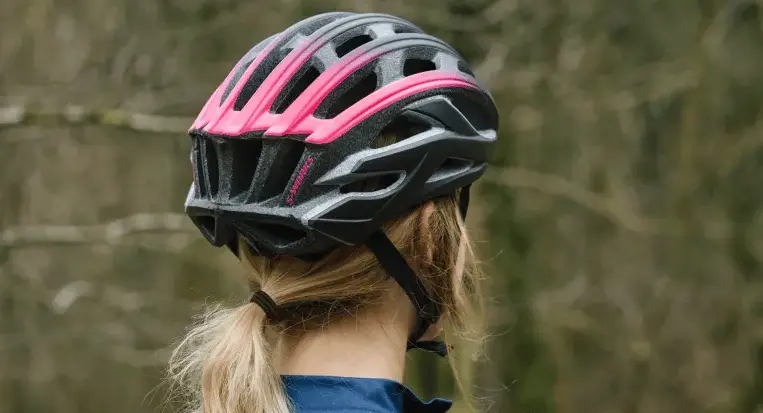 Additional Features
If you ride a lot during the daytime, you will want to keep an eye out for extra features like a removable visor.
Some models also have magnetic goggles that help you cut through the glare.
Extra features basically come down to personal preference. They are usually not deal-breakers for many cyclists since you can always find a way around helmets that lack these additional features.
But one thing you shouldn't compromise on is the helmet's appearance.
Whether you are buying a tight budget or high-end option, you want something that won't make you look stupid when you wear it.
No doubt, there are only so many patterns and color options when it comes to finding the best bike helmet for extra large head. Still, you should find something with the right profile.
FAQ
Do bike helmets protect heads?
Yes, bike helmets protect your head from injury and severe damages. You don't have to take my word for it. Here's a summary of what one study says:
Bike helmets reduce head injury by 48% and prevent 60% of serious head injuries. It also minimizes traumatic brain injury by 53%.
By the way, there are many similar studies showing that bike helmets drastically reduce the odds of head injury.
But there's a catch.
All helmets are not created equal. If you have a rather wide or big head, you'll want to get the best bike helmet for big heads.
A bicycle helmet is a outdoor gear that sits awkwardly on your head will do you little to no good. If anything, it can compromise your safety.
More: Best Bike Helmet For Round Head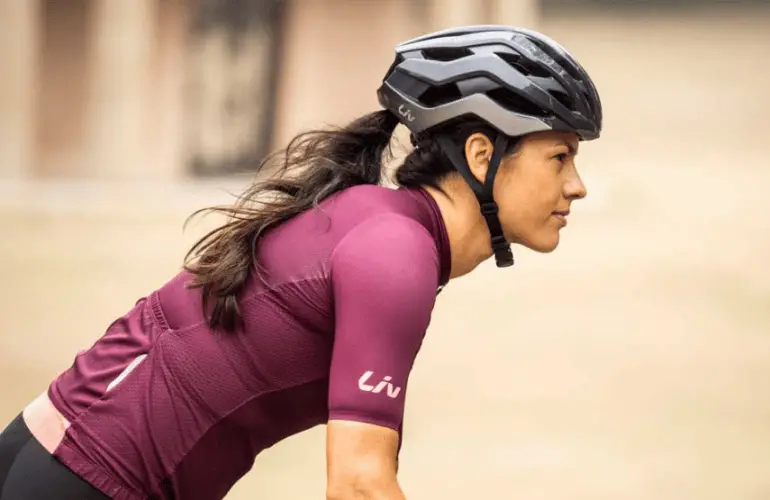 How do I measure the size of my head to get the right helmet?
Here's how to measure your head for the right bicycle helmet size.
First, grab a tape measure and wrap it around your head. Start at your forehead, just above your eyebrow. Make sure the tape is above your ears.
In other words, you are measuring where a hat would normally sit on your head.
Next, use the measurement to compare the sizing chart of any bicycle helmet you want to buy.
Do bike helmets expire?
Here's the thing with bike helmets. They do not have a strict expiration date.
You're not likely to find any "Use-by" or "Best Before" date anywhere on the headgear. But that doesn't mean you can use the helmet forever.
Even the best bike helmet for big heads will deteriorate over time. It might look new and in good condition, but an expired helmet doesn't necessarily have to be bad or broken.
Instead, the headgear is no longer the best version of itself.
Most manufacturers suggest replacing a helmet with new and good helmet seven years from its production date or five years of use.
Many helmets have the production date is stamped somewhere inside. The date is usually in the YY/MM/DD format.
In any case, if you can't find the date, the Consumer Product Safety Commission recommends getting a new helmet every 5 to 10 years.
Five years is enough time for the construction materials of any helmet to naturally start to degrade. Continuous exposure to sweat, sunscreen, and hair oil over a long time can cause wear and tear.
Check our detailed dive on helmet expiration
Should a helmet touch the top of your head?
Here's a one-word answer: yes!
A helmet with the correct fit should sit level on your head. Meaning, it has to cover most of your forehead and stop about an inch or so above your eyebrows.
Even if you wear one of the XXL mountain bike helmets, it should be snug around your entire head. In other words, there should be no side-to-side or up and down movements during rides. Yet, the helmet shouldn't be too tight that it results in pressure points.
When you wear a helmet, your objective is simple: level, snug, and stable.
Bottom line: your helmet should touch the top of your head and all sides of your head. That's the best way it can stay level and stable enough to resist hard blows and violent shakes.
More: Best Bike Helmet For Small Head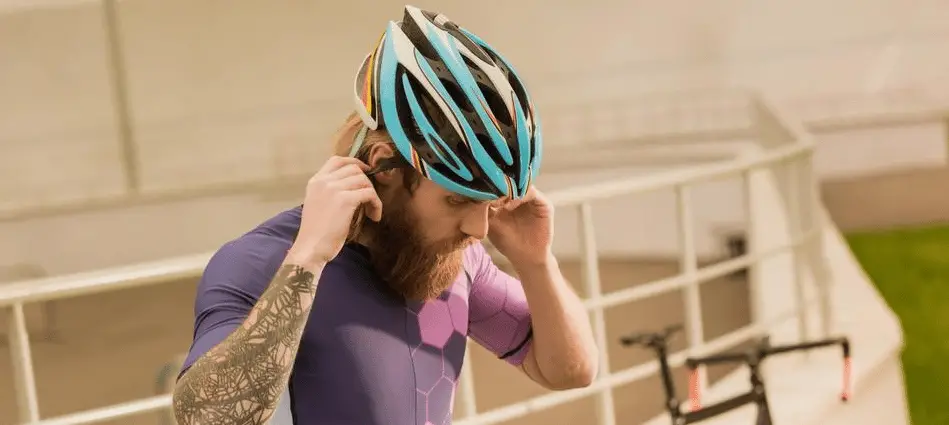 Conclusion
No doubt, the market for large helmets for big heads clients is limited compared to small and medium-sized options. But you can still get nice-fitting lids if you know where to look.
Thankfully, you've read my review of the best bike helmet for wide head. And I'm pretty sure you've found something that fits.
Keep in mind that with most helmets, you might not get the best fitting right out of the box. That's why these lids come with adjustable straps. Also, make sure to wear a skull cap to protect your hair from getting dishevelled.
Just make sure to choose a size that's close to your exact head measurement, and you're good to go!