Fat-tire electric bikes are extremely fun to cruise around. But the Aventon Sinch folding electric bike is on a different level altogether, thanks to its elegant, folding design.
It comes with a low frame and compact wheel, making it comparatively easy to get on and off the bike. Aventon engineered this Sinch folding electric bike with both small and tall riders in mind, so you will likely find it comfortable regardless of your size.
Check out this quick video to get a feel of the Sinch foldable electric bicycle.
Aventon started as a single-room warehouse office in Los Angeles back in 2012. Today, it is one of the leading manufacturers in the industry with innovative bike designs and creative team members.
In this Aventon Sinch folding e-bike review, I will highlight the major features of this unique bike and briefly lists some of its pros and cons to help you decide if Sinch electric folding bike is the right fit for you. I'll also include a few alternatives to help you compare available options.
Let's get started.
Things to Consider Before Buying Ebike
Buying a portable electric bike can be exciting. The sheer fun of cruising around effortlessly on your e-bike can make you rush into buying an option that doesn't work well for you.
For this reason, this Aventon Sinch folding electric bike review includes a few things to think about before hitting the purchase button carefully.
Motors: Ebikes can have their motors either inside the frame or on the wheel. If you want a more expensive e-bike, the motor will likely be located inside the frame.
Assist Level: Three or four levels of motor assistance are okay for most riders. Consider choosing a bike with "walk mode" if you want more sophistication.
Range: The range refers to the distance an e-bike can go on a full charge. The range depends largely on the terrain, rider's weight, and assist level. But it is better to choose bikes with above 25 miles range if you want something that won't run out of juice during your commute. Although, if you're mostly riding for about 10 minutes commute, you might not need a higher range.
Batteries: Keep an eye out for lithium-ion batteries with charging times between 4 to 6 hours.
Cost: Lastly, e-bikes are not cheap. The cost can vary widely between $600 to more than $8,000. However, you can expect to spend around $1,500 for an excellent option.
Throttle on Startup: Consider an e-bike that can throttle from rest if you have a leg condition. The option is also helpful if you need to start riding from the bottom of a hill or in a loose terrain like sand.
Accessories: Some e-bikes come with accessories such as a rear rack (rear bike rack) and fenders, while others only make provision for attaching them. While add-ons to a bike rack may not be a deal-breaker, it is great not to spend extra cash buying standard accessories.
Features and Benefits
What exactly makes the Aventon Sinch Folding E-bike stand out from other options? In this part of the Aventon Sinch electric folding bike review, I'll highlight some of the major features and benefits that set this bike apart from the rest.
Frame
Nearly all Aventon electric Sinch reviews consider the bike's frame as one of its most unique features.
First, the frame of the Sinch folding electric bike is foldable. You can fold the pedals and handlebars, too. This allows you to store or transport this portable electric bike easily – a benefit I often look forward to since I enjoy bringing my e-bike to the great outdoors.
But that's not the only spectacular thing about the frame.
The 6061 hydroformed aluminum material is welded together smoothly it feels like the frame was a cast tube. There is hardly any noticeable frame flex, giving it a rock-solid feel. In addition to durability, this increases the beauty and sleekness of the bike.
The battery sits snuggly inside the tube but you can remove it with just a press of a button. In addition to powering the bike, the battery helps with even weight distribution.
Suspension System
There are only a few extras when it comes to the Aventon Sinch folding e-bike. But it does feature a lockable front suspension fork.
With the RST Guide Spring Suspension, you can get up to 45 millimeters of travel. That means you are less likely to feel most bumps underneath the bike's front wheel with this suspension fork. That's a very useful feature if you plan to ride in pretty rough terrains.
As if that's not enough to absorb rude shocks, the oversized fat tires also help to make your ride as smooth as possible, regardless of the terrain.
This may not be a big deal if you mostly ride in a neighborhood with excellent pavements. But the suspension fork enhances your overall riding experience if you're anything like me and many other users who enjoy riding in a variety of conditions.
Motor
With a 500-watt geared rear hub motor (rear spokes) that peaks at 750 watts, the Aventon Sinch Folding e-bike gets up to 20 miles per hour with pedal assist and throttle.
In other words, you can expect a decent range with the powerful five-level pedal assist and throttle with this Sinch electric folding bike.
The Sinch foldable electric bicycle might not be your best pick if you're looking for a near-silent motor. While the Aventon Sinch's motor isn't annoyingly loud, you can't dismiss the noise, especially at lower speeds.
On the good side, the noise reduces significantly when you hit the top speed of 20 mph.
More: Why the Trek Verve+ 2 Should Be Your Next Hybrid E-Bike
Wheel
The Sinch foldable electric bicycle has relatively smaller wheels compared to many other e-bikes. The advantage of this is it lets you effortlessly maneuver tight spots and crowded areas. Combined with 4" wide and fat tires, the wheels give the bike an agile feel and responsiveness that makes for an enjoyable riding experience.
Brake
Next on this Aventon Sinch folding e-bike review is the brakes. Aventon dedicated some serious effort to providing a first-rate braking system.
The Sinch folding electric bike features Tektro MD-M810 mechanical disk brakes with 180mm rotors. This simply means that you won't have any trouble grinding to a halt at a moment's notice.
The brake system comes complete with an auto cut-off system that completely disengages the throttle pedal the very instant you apply the brakes. Even when you ride at top speeds, the bike can come to a full stop within a few feet.
The highly sensitive brake system is extremely useful, especially when you ride in unfamiliar territory where things can suddenly pop into your path.
Battery
This e-bike comes with a high-capacity lithium-ion 48V battery. It is rated at 672Wh and features Samsung cells, meaning it will serve you for a very long time.
The location of the battery inside the frame protects it from harsh weather conditions, including rain and dust.
Thanks to the manufacturer's fast charging technology, you can get the battery fully juiced up and ready to hit the road in less than five hours, which is within the ideal charging time for e-bikes.
If you only use the level-one pedal assist, you can expect to cover up to 71 miles on a full charge. Typically, the battery will get you an average of 40 miles on one charge. Meaning it offers a longer range than many options in the market.
More: Priority Current E-Bike Review: Worth Having?
Others
Fat Tires
The e-bike features oversized Kenda Krusade fat tires. They are puncture-resistant, making them suitable for all types of terrains.
I find the aggressive tread extremely useful, especially on beaches. The fat tires provide ample grips on slippery grounds, too.
Pedal Assist and Throttle
Whether you prefer a lazy ride or you want to get some workout from your ride, the Sinch compact electric bike offers five levels of pedal assist to help you make your riding experience exactly what you want. This is above the average 3 to 4 pedal-assist level for most ebikes.
The throttle will power you along when you want to rest your foot, glide around, and take in the scenery.
More: Rad Power Bikes RadCity 4 Review
Backlight LCD Display
The backlit LCD display is another extra feature worth mentioning in this Aventon Sinch review. The screen has big readouts so there is zero effort seeing tracking your speed, distance covered, or pedal-assist level.
A backlit screen of this Sinch electric bike foldable means there shouldn't be issues viewing how far you've gone when riding in lowlight conditions.
But here's the thing.
The LCD display sits nicely on the handlebars and it is completely adjustable.  In other words, you can change the angle to minimize glare during the daytime.
This might be a small addition, but it can make a great deal of difference. I really don't enjoy riding with the sun's reflection in my face, and I'm pretty sure you don't, too. Having an LCD display on your e-bike is great, but it can be annoying if you can't change the angle.
More: Rad Power Bikes RadRover 5 Review
Features Summary
Here are the major Aventon Sinch folding electric bicycle features at a glance.
| Feature Type | Feature Specs | Benefits |
| --- | --- | --- |
| Wheel & Fat tire | 20" diameter wheel with 20" x 4" Kenda Kursade tire | Suitable for use in urban, trail, sand, snow, and neighborhood |
| Battery | Removable Samsung 18650 Lithium-ion battery | Long-lasting performance, fast charging (4 – 5 hours), and provides up to an average of 40 miles and 71 miles with pedal assist on a full charge |
| Frame | Foldable frame and handlebars | Portable for storage and transport |
| Speed | Top speed of 20mph | You can reach the top speed on the pedal assist or throttle |
| Brakes | 180 mm rotor mechanical disc brakes | Instantly disengages the throttle and comes to a complete stop within a couple of feet |
| Motor | 500 watts, 48 volts rear-mounted geared hub | Gets up to 20mph and provides a decent range |
| Front Suspension | RST suspension fork with 45mm of travel | Offers smooth riding experience on rough terrains |
What Others Are Saying
Before I bring this Aventon Sinch Folding bike review to a close, I'll like to give you a quick glimpse into what other users think about the one-of-a-kind e-bike.
There won't be upgrades and newer versions if a product is perfect, and the Aventon Sinch folding electric bicycle is not an exception to this rule. But, I found quite a number of honest customer reviews on the internet that seemed rather positive.
Take a look at the following testimonials from real users about the ebike under review.
Aventon Sinch Alternatives
If you like the Sinch but would like to see what other similar options exist, you're welcome to check out the following great alternatives.
RadMini 4 vs Aventon Sinch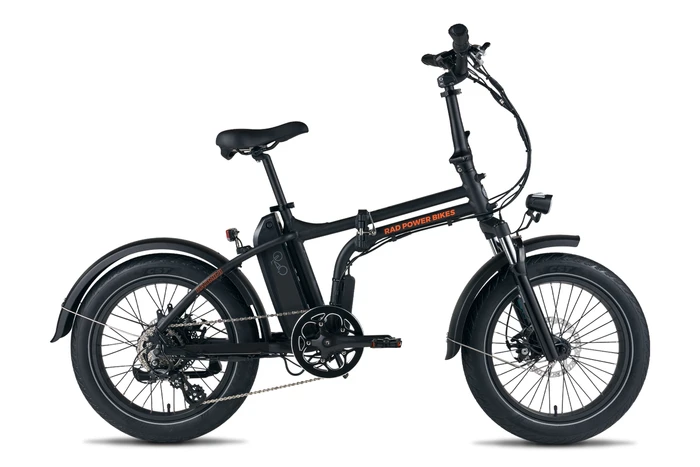 Like the Aventon Sinch, the RadMini 4 is a foldable e-bike with fat tires. It also features a suspension fork and sells within the same price range.
The locking mechanism and hinge on the folding frame are not as robust as the options on the Sinch.
The 672Wh battery can run for up to 45 miles on a single charge and a 750-watt motor provides a torque of 80Nm, which is surprisingly powerful for a foldable ebike. Chick our Rad Power Bikes RadMini 4 Review Here.
RadMini 4 Summary
Price: $1,499
Charge Time: 5 – 6 hours
Range: 25 – 45 miles
Click here to check out the RadMini 4.
Aventon Sinch vs Lectric XP
Like the Sinch, the Lectric XP has a 500w motor but is relatively quieter even at 800w peak output. It comes fully assembled with fenders and a rear rack (rear bike rack).
The bike weighs 63 lbs and can is suitable for riders with a maximum weight of 275 lbs. It comes with 5 pedal assist levels and features Tektro 160mm mechanical disc brakes.
Lectric XP Summary
Price: $899
Charge Time: 4 – 6 hours
Range: Up to 45+ miles
Click here to check out the Lectric XP.
Aventon Sinch vs Sondors X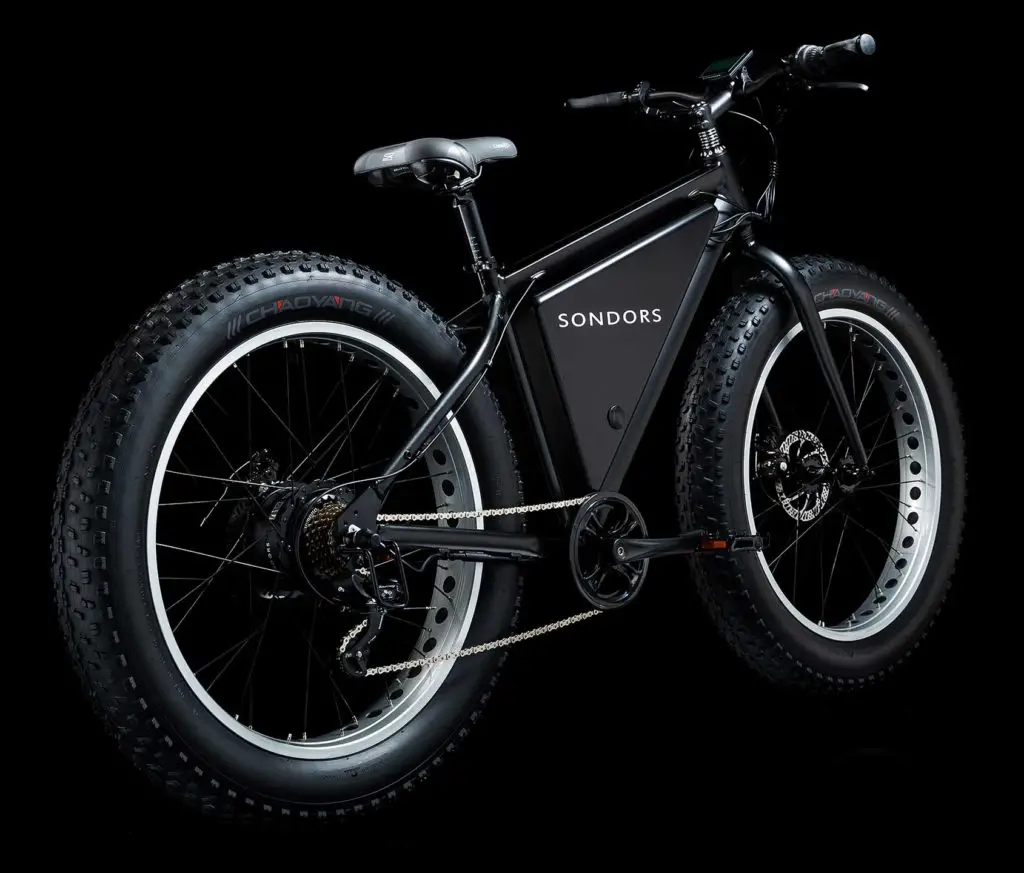 Sondors X has a 7-speed gear with a grip shifter and is cheaper than the Aventon Sinch. At 67 lbs, it has a similar weight to the Sinch but provides a higher maximum load capacity of 300 lbs.
With a 500w battery, the Sondors X offers a speed of up to 20 miles per hour.
Sondors X Summary
Price: From $1,299
Charge Time: 5 hours
Range: 40 – 60 miles
Click here to check out the Sondors X.
Conclusion
Owning an e-bike is usually fun until you consider storage and portability. With the Aventon Sinch Folding Ebike, you can easily fold and store the bike in your car's trunk and bring it to an outdoor event.
Its oversized off-road tires mean you can enjoy an incredibly smooth ride with lots of maneuverability in different riding conditions. Plus, the Aventon Sinch has a great build quality and sleek, compact design that get heads turning.
If compactness and quality design rank high among the things you want in an e-bike, you may want to consider the Aventon Sinch. Click here to check out the latest price.