In need of a new bike? Look no further than Raleigh. From their diverse selection of bikes, we recommend the Raleigh Bikes Cadent 3 SM/15. It's lightweight and nimble to ride. The handlebars are stable and it's perfect for daily commuters and fitness enthusiasts. 
IMAGE
PRODUCT
DETAILS
 rating
price

Best Overall

Raleigh Bikes Cadent 3 SM/15

best Raleigh MTB Bike

Raleigh Bikes Kodiak 2 Mountain Bike

Bike Type: Mountain
Gears: 11

Raleigh Bikes Merit 3 52cm
Raleigh Bikes Women's Superbe City Bike

Bike Type: Commuter
Gears: 7

Raleigh Bikes Tamland 1 All Road Bike
Raleigh Bikes Rowdy
Raleigh Bikes Tristar 3-Speed Trike
Raleigh Bikes Unistar SE Unicycle

Bike Type: Unicycle
Gears: N/A

Best on a Budget

Raleigh Bikes Talus

Bike Type: Mountain
Gears: 21

Raleigh Bikes Venture Comfort Bike
Raleigh Misceo IE

Bike Type: Electric
Gears: 8
History of Raleigh
The brand was founded in 1887 in Nottingham, England and is still based in its hometown where Raleigh creates its bike designs and builds wheels. It was founded by Sir Frank Bowden, who had a natural love of cycling which brought him many health benefits after some previous health issues.
Raleigh is primarily recognized for its iconic bikes, including the Grifter and Chopper, plus high-end bikes such as the Tour-de-France-winning steel-frame bike. 
Early in the 1900s, the world saw an increase in the popularity of the car, although Raleigh still managed to produce 100,000 bicycles, 250,000 hub gears, and 50,000 motorcycle gearboxes each year.
1943 was a big year for Raleigh, as a professional athlete won two silver medals in the Olympic games while riding a Raleigh bicycle. Just over 20 years later, the brand introduced its now infamous Raleigh Chopper which became available in the UK and other markets. The brand sold 1.5 million units of this model, which showed Raleigh that this type of bicycle was essential to the market.
What Type of Bikes Does Raleigh Make?
One incredible stand-out feature of Raleigh is that they create a diverse range of bicycles for all ages, abilities, and interests. Whether you're looking for a bike for a beginner, an advanced rider, or varying circumstances, Raleigh has a wide selection to choose from.
Road Bikes
This is a large portion of what the brand sells. You can identify a road bike as having narrow tyres, large 700cc wheels, and drop handlebars. They're a great choice if you're looking for speed, style, and efficiency.
Road bikes will provide you with the exhilaration you're looking for in a race or during leisure pursuits. Each type of road bike has its own unique requirements and has the perfect balance of high-tech frame materials, and performance.
More: Best Road Bike for Old Adult
Mountain Bikes
Many of Raleigh's mountain bikes are some of the best-selling on the market. They're carefully designed using geometry and style and thrive on exposure to technical terrain. All of Raleigh's mountain bikes can withstand the physical demands of trail rides.
A standout feature of Raleigh's mountain bikes is that there is a choice between full suspension and hard tails. The former have a suspension system at the front and rear of the bike for the ultimate comfort when traveling on rocky, bumpy surfaces. Alternatively, hardtails are more versatile and have rigid frames and a front fork suspension system.
If you're looking for a bike but have no idea what category to choose from, we suggest you choose a mountain bike. This is because mountain bikes are designed for rocky conditions but can also handle smooth pavements without too much bounce. This incredible diversity makes these bikes popular with Raleigh customers. 
However, one thing worth remembering is that not all mountain bikes are suitable for extreme off-road riding. Therefore, you should research the specifications of each mountain bike which Raleigh sells to check what's suitable for your needs and preferences. For example, check the gear set, shifters, brakes, saddle, grips, and tire tread pattern. 
More: Best Mountain Bike Under $500
Electric Bikes
Electric bikes are becoming more popular and are fun to work with. They'll help you reach your destination without working up a sweat and alleviate some pressure from those who require more practical assistance.
If you're looking for some support when traveling a long distance, electric bikes can help you with that. As a result, you can enjoy your commute to work or a leisurely bike ride without harming the environment by using a car.
The Best Raleigh Bike Reviews 
We've spent hours researching the best Raleigh bikes and have uncovered a versatile selection for leisurely commutes, vigorous exercising, and everything in-between. 
Raleigh Bikes Cadent 3 SM/15
The Cadent 3 is one of Raleigh's top bikes and has a lightweight frame which makes it nimble for riding. It's designed with stable handlebars to keep you in an upright position, making it an exceptional city or commuter bike. Although it doesn't come with a water bottle holder, it has pre-drilled holes, so you can easily install a bottle cage onto the bike.
To avoid a bumpy, uncomfortable ride, the Cadent 3 comes with a carbon fork, which offers a smooth experience. The tires are smooth and fast when riding on pavements and the strong tires make climbing uphill relatively easy. However, this is also thanks to the smooth multiple gears.
Finally, the bike comes with hydraulic brakes which provide excellent stopping power, and always keep you safe. The grips on the handlebars can be gripped while remaining comfortable, which prevents your hands from becoming numb on long rides.
Raleigh Bikes Kodiak 2 Mountain Bike
The Kodiak 2 is perfect for beginners or expert mountain bikers and comes with many features. Its lightweight, yet sturdy, aluminum frame makes this mountain bike durable while also allowing you to travel at high speeds without much effort on your part.
Approaching and steering around corners isn't too difficult, thanks to the front and rear thru axles which allow you to create clean lines. The 27.5-inch tires and 120mm suspension provide a smooth and stable ride, so you can use this mountain bike on vigorous trails.
The bike can conquer rocky surfaces and the hydraulic disc brakes are strong and powerful. The brakes bring you to an immediate stop in any conditions, even when the ground is wet. We love that the pedals and chain work together to provide a smooth riding experience every time.
Raleigh Bikes Merit 3 52cm
If you're looking for a Raleigh road bike which can travel at high speeds, the Merit 3 is a great contender. In particular, its aluminum frame provides efficient pedaling and power transfer while remaining lightweight, so there's no issue with additional weight on the bike.
With 11 speeds to choose from, you can tailor the bike's gears to your preferences and conditions. It's also comfortable to ride as the saddle is soft and padded, which helps avoid any discomfort on a long ride. The ergonomic handlebars also provide a more comfortable experience.
Most importantly, you'll feel safe every time you use this bike, as it has excellent stopping power. The mechanical disc brakes are both responsive and powerful. The bike is also equipped with 700x28c tires which provide excellent transaction for long durability. So, if you intend to put in many miles on this bike, it'll be long-lasting.
Raleigh Bikes Women's Superbe City Bike
Of all the Raleigh bike models on this list, the Superbe is the best model for commuting. This bike has an upright riding position and makes it easy for riders to get on and off. The steel twin tube frame provides a distinguished look while also ensuring that the bike is durable and can tolerate a lot of weight.
Although there aren't as many speeds as on some other Raleigh bikes on this list, operating the gears is easy and you can do so simply by flicking them with your wrist. For a stunning design, the bike's rims are made from alloy and are double-walled. This, in combination with the brown tires, gives the bike an excellent vintage appearance.
The Superbe comes equipped with a rear rack basket and handle to make shopping trips quick and convenient. The basket is the perfect accessory for grocery shopping and you can easily add another basket to the front of the bike too.
Raleigh Bikes Tamland 1 All Road Bike
This All Road bike's geometry provides riders with excellent confidence on gravel, and bumpy or uneven surfaces. It features high-volume Donnelly X'PLOR MSO 700×40c tires which are both comfortable and stable, and enable you to travel across a range of surfaces and in wet and dry conditions without any issues.
We love that the Tamland 1 is a versatile model which can have you zooming down the streets, with 22 speeds available. Alternatively, you can use the bike for traveling over rough terrain without any issues, thanks to the bike's high-quality, reliable suspension system. 
The bike's durable steel frame ensures that it's both long-lasting and reliable. With exceptional comfort and performance, you can ride the Tamland 1 bike for long periods without any discomfort.  
Raleigh Bikes Rowdy
This Raleigh bike is perfect for kids who want to ride up and down grassy hills, on roads, and along uneven dirt trails. Thanks to its wide, knobby tires which are two inches thick, this bike offers excellent traction and stability. This dimension also enables riders to cover a large surface area at once.
Weighing 21 pounds and with an aluminum frame, the Raleigh Rowdy bike is a high-end, lightweight option for kids. This feature enables little ones to travel at fast speeds while also ensuring that the bike's weight doesn't affect the overall performance. 
With low handlebars, kids can lean into the journey and shift their weight to suit their strength. The bike is also designed for children who are looking for adventure, and isn't ideal for timid kids who just want a casual ride around the block.
Raleigh Bikes Tristar 3-Speed Trike
This three-speed trike has a front wheel measuring 24 inches and rear wheels measuring 20 inches. These measurements ensure that the trike is well-balanced and stable the whole time you're riding it. At the same time, the trike is narrow enough to make getting on and off convenient.
The trike's seat is wide, which improves overall comfort and stability while making it the perfect design for all shapes and sizes. It comes with a rear basket, which is great for trips to the grocery store or taking essentials to a picnic.
It has two sets of brakes with V brakes on the front and rear coaster brakes on the back. This feature makes the trike easy to stop with your hands and feet, which is perfect for those with weaker hands or feet. Perhaps the best benefit of this trike is how stable and durable it is. You can use it every day without any issues of parts suddenly breaking.
Raleigh Bikes Unistar SE Unicycle
When writing these Raleigh bikes reviews, we wanted to include a wide selection of models and you can't get much more diverse than a unicycle. This isn't built for beginners, but it is a great purchase for unicycle enthusiasts looking to advance their skillset.
Its frame is lightweight, durable, and strong, and gives users peace of mind. The front saddle grab handle makes it sturdy and the flat fork platform gives you the opportunity to learn new tricks. Furthermore, the unicycle is lightweight, weighing just over 7 pounds, which is great for limiting any excess weight.
The saddle is padded, which is great for enthusiasts who will typically use the unicycle for long periods. In addition, the double seat post clamp allows you to adjust the height and position to suit your preferences and comfort.
Raleigh Bikes Talus
Many Raleigh mountain bikes are some of the best in the industry and we highly recommend the Talus model. The geometry is built to hold you in an upright position, which makes it ideal for everyday riders. It's more relaxed than some of the other mountain bikes on this list, and this helps to improve comfort on paved bike trails or when riding on bumpy surfaces.
This particular model comes with a 3 x 7 drivetrain, which provides plenty of gears for you to change using both hands. It comes with a Suntour coil shock with 100mm of travel, which, although it may be a little towards the heavier end of the scale, adds to the overall quality of the bike.
Although it's a budget-friendly mountain bike, the Talus is great for advanced cyclists. For example, the Tekto v-pull brakes provide excellent performance for riders and the levers are easy to use. The mechanical disc brakes are also easy to use and are reliable, which helps to keep you safe on your travels.
Raleigh Bikes Venture Comfort Bike
If you're searching for a reasonably basic road bike which is comfortable to ride, the Venture Comfort Bike is a great contender. It's designed for durability, comfort, and to be long-lasting, which makes it popular among the biking community. 
Its durable, high-quality steel frame is tough and long-lasting, which is a quality you're probably looking for. It might not be made from the lightest material, but the frame won't let you down. One standout feature is the wide seat for extra comfort, so you can evenly distribute your weight during your rides. 
The road tires are designed to make cycling easier and more fun. Although they aren't the narrowest or the best for picking up speed and accelerating, they're the ideal width for providing just the right amount of traction and balance hen riding.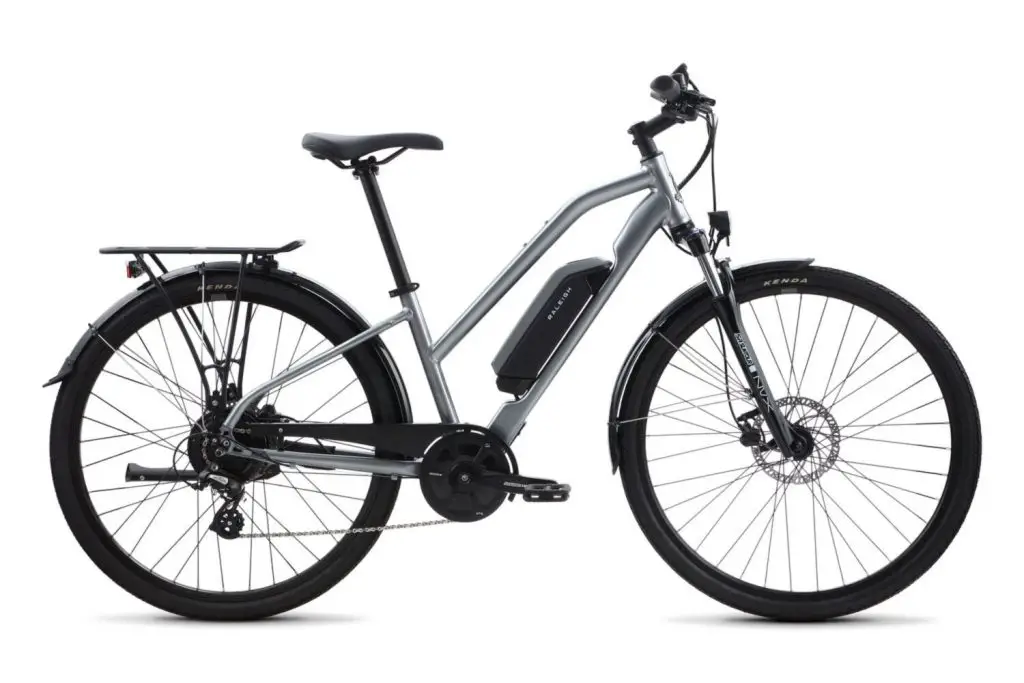 Looking for an electric bike which will make cycling fun again? This model is the perfect choice. Designed with an aluminum frame, it's lightweight and sturdy, which enables you to travel faster than on an electric bike with a steel frame, for example.
The battery pack provides excellent power and balance and can help you reach speeds of up to 20mph. Also, with eight speeds to choose from, you can adjust the ride to your preferences and conditions. The Misceo IE makes it easy to travel on bumpy surfaces, thanks to its SR Suntour suspension fork which absorbs impact to make for a smooth ride.
We love that this bike comes equipped with LED lights, bell, kickstand, and rear rack to make commuting fun and easier. It's available in two colors and looks the part, which makes it very popular in the biking community.
Comparison Between Raleigh Bikes and Other Brands
If you're going to invest money in your future and transportation, you'll want it to be manufactured by a trusted, reputable brand. With many years of experience and expertise, Raleigh is one of the bike brands that develops some of the top models.
Their expertise has also led to incredible advancements in the bike world. They only use top-quality materials and you won't experience a bike which breaks after its first few uses. This makes Raleigh adored in the biking community. 
Is Raleigh a Good Bike Brand? 
Fortunately, the brand has a long history of developing some of the most high-quality bikes the industry has ever seen. Many customers love the great versatility and range the brand offers, which allows riders to choose a bike which is specific to both their needs and budget.
More often than not, your purchase will include a generous warranty. Not only does this provide you with great peace of mind at the time of your purchase, but it enables you to return the bike to the manufacturer if it suddenly becomes faulty.
However, more often than not, you won't encounter such situations, as Raleigh only uses the highest-quality components which are made to last. 
More: Check Out Schwinn Bikes here
Conclusion
We hope you enjoyed these Raleigh bike reviews. Although we couldn't review any vintage Raleigh bikes, we hope there's something for you among our above selections. 
We declare the Raleigh Bikes Tamland 1 All Road Bike as the runner-up. This bike can comfortably handle traveling on gravel and uneven surfaces. It has 22 speeds to offer, which allows you to travel according to your own comfort and preferences. 
Alternatively, the Raleigh Bikes Women's Superbe City Bike is ideal for commuting and has an upright riding position which allows riders to get on and off easily. You can also operate the gears easily and the steel frame offers excellent durability.