The word "Layering" often comes up when it comes to skiing and snowboarding, but very few come up to explain why it is important to skiers and snowboarders & more importantly what's the best way to layer up for snowboarding.
Layering is a key aspect whether you are heading to a resort or planning in the backcountry. The purpose of layering is simple, be protected by the adjustable elements to compensate for the changing conditions and temperatures. Proper layering is the perfect recipe to stay away from sweating or getting too cold rapidly. It can certainly have dire consequences.
Layering For Snowboarding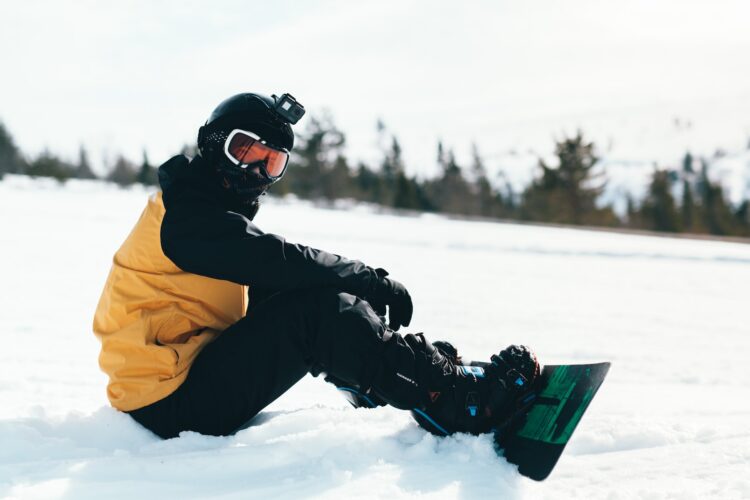 The most basic layering system is one of the most common and it works for many people to stay safe in varying conditions. However, mid and outer layers are also important when conditions become too harsh. The base layer consists of a warm insulating layer paired with a windproof and waterproof shell jacket.
Now, including or excluding extra layers depends on the situation.
Be noted, the objective is to stay warm and dry. So, after donning the basic layers, it's time to embrace the fine-tuning of modularity. It is not necessary to wear every layer all the time. You can simply swap them as per the conditional requirement.
Before You Go Out
No matter the weather report, the base layer will always work in every condition. Most skiers choose the base layer as the first line of defense against various weather conditions. Now, the choice of mid or outer-layer inclusion depends on the weather outside. So, it's good to move out after checking the weather updates. Keep an eye on the wind chill reports, too.  
Do not forget to carry a backpack. This will allow you to carry the necessary things along with the required layers. So on the way, you will be able to add or remove layers as the weather changes throughout the day.
Underwear Under Your Base Layers
The choice of underwear is completely yours. Some prefer not to wear underwear while others opt for the support and comfort offered by the undergarments. A generic and same guideline is applied for long underwear and that is to look for a moisture-wicking material.
When it comes to underwear for snowboarding, you'll want to look for something that can absorb or prevent moisture. This will help keep you dry and comfortable while you're out on the slopes. You may also want to consider opting for a pair of thermal underwear to keep you warm.
Mid Layer Insulation
The mid layer is the insulation layer and its objective is to deal with the extra coldness and keep you warm. This layer need not be waterproof. Even if it does not have a moisture-wicking feature, that's okay. All you need is to add a layer of insulation above the base layer to trap the air and keep the warmth inside. Most insulating mid-layer for snowboarding or skiing is adjustable. If it warms up too much, simply switch to a thinner mid-layer or take off the entire layer.
A synthetic jacket or puffy down is the perfect choice for mid-layers. Some people like switching to fleeces or sweaters, but these can be a bit bulky for snowboarding. It's still a good idea to stay away from cotton because the purpose is to insulate. So, we all know that cotton is not at all good for insulation.  
Saving Your Legs
Due to the fast movement, if you find that your legs getting cold too fast, consider wearing a down and synthetic puffy knicker pants. When you go shopping for mid-layers, you'll be greeted with two main options. These are synthetic and down insulation.
Down is known for offering the best warmth-to-weight ratio. Also, it is lighter and packable. However, if the down gets wet somehow, it loses its warming or insulating ability to resist the winter weather.
Synthetic insulation is not that good for delivering the level of warmth achieved from a down jacket, but you don't have to worry even if it gets wet.
Down or Synthetic?
If you are heading to a drier climate, choosing down can be the right choice, but if the weather is warm and wet, a synthetic layer can be a good call.
The goal is to find something from the store that fits comfortably over the base layer without being too bulky. Remember, you have to put a hard shell over it (keeping the probable circumstances in mind). Also, you should ensure that the mid-layer isn't too tight that it restricts your swift movement.
How To Best Dress With Top Layers
This is the layer that everyone sees. So, it can be anything creamy and stylish. Wear skiing and snowboard pants It's all about snowboard pants, snowboard jackets and bibs. These are the most expensive layers of all. Thanks to the evolving technology that makes these ski pants, bibs, snowboard jackets/insulated jackets and other outer layers breathable and waterproof.
Run Hot With Ski And Snowboard-Specific Top Layers
They are basically made with two goals in mind: protection from exterior moisture (rain or snow) and keeping you safe from the gust of chilly wind that comes on the way. Despite this fortification, it also allows your body to breathe, thereby vaporizing the heat inside and preventing the formation of moisture. Choose comfortable pants that are made from synthetic material.
Jackets and snow pants usually come with insulation, breathing and waterproof rating. It's good to invest in an insulated jacket with zippered vents for any typical day. Pair your top layers with a proper snowboard socks that fits well.
Why Shells?
Shells do not come with insulation and thus, you can take control of your temperature by simply changing the existing layers. With an insulated jacket, if you feel too hot, you may run out of options and then you have to snowboard with only mid layers on, which are likely not waterproof.
When choosing shells for the top half, stay focused on fittings, quality and functionality. Choose one with a proper rating in terms of waterproof. Wear a snowboard jacket and pants with vents when snowboarding.
Socks To Wear
Snowboard-specific socks are also an essential part of layering. It is recommended to invest in socks that are made specifically for snowboarding. Ski and snowboard socks are thin and come with moisture-absorbing features. Remember, if your feet stay warm enough, the body temperature automatically lingers to a comfortable level.
It is important to look for these important features when you buy snowboarding socks. These are:
Absorbing the moisture
They are thin
Getting the right fit
Socks are A Part Of Your Base Layer
Good snowboarding socks are made of materials that are able to wick moisture while still having an insulating layer even when your feet get wet. Though it's a rare case, sometimes, while snowboarding your feet may get wet and thus, choosing proper snowboarding and ski socks is crucial.
Thinner socks are important because they will allow much-needed circulation and prevent the formation of sweat. Thick socks do not have these qualities. It's recommended to buy snowboard-specific or thermal socks with a pair of comfortable snowboard gloves and snowboard boots that suit your ski outfit. Cotton socks for snowboarding are not a good idea.
Snow Gloves
Apart from a snowboard jacket, having a pair of snowboard gloves is a basic necessity. When looking for gloves, you want to find something that is waterproof and insulated. Mittens are not recommended because they do not allow your fingers to move freely. Look for gloves that have a Thinsulate lining and are made of waterproof materials. Make sure to bring along a spare pair of gloves in case they get wet.
Gloves Or Mitten?
Cold hands are no fun when it comes to skiing or snowboarding. So, it's good to keep your hands warm and dry. Mittens can offer the most warmth but provides less dexterity. It becomes harder to adjust your goggles, pull out your phone or grab a zipper.
Gloves, on the other hand, have the opposite properties. They are easy to manoeuvre but provide less warmth. However, there are some hybrid styles available today. In this style, only the fingers are made of a mitten. You can also add an extra layer of warmth by wearing an inner liner glove. This way you can perform detailed tasks by taking off your larger gloves and then running hot by putting on the gloves back.
Wear Skiing and Snowboarding Helmet
To handle the optimum temperature on cold days, it's smart to wear a helmet. Even if the temperature is warm, it's good to wear a helmet to prevent fatal injuries during a fall.
There are many factors on the mountain that are out of your control, and thus, it's wise to be safe. Most new-age helmets designed for skiing or snowboarding are lightweight. They bring a huge difference between life and death. The first thing you should look for in a helmet is fittings. If it keeps wobbling, the chances of falls increase.
Sizing Of A Helmet
The traditional sizing for helmets is still maintained to this day. Run hot by choosing the best fit for your helmet. If you are not sure enough about the size, simply measure your head and find a suitable one from the size chart. Most helmets come with an internal fit system to achieve proper and comfortable fittings. Pair your helmet with your desired snowboard jackets adorned with a neck gaiter.
You can also opt for a shell jacket or insulated jacket over your base layers to deal with the optimum temperature on cold days. Ski and snowboard helmets easily fit with your goggles.
Things To Check For Your Helmets
Ensure that there is no gap between your helmet and goggles. Also, check out whether or not, the helmet is pushing your goggles down to your face or nose. Make yourself properly prepared by adjusting the strap behind the goggles.
Apart from fittings, focus on other aspects like advanced safety technologies. These include audio integration, weight and MIPS. Each of these features can significantly raise the cost but provides plenty of options when it comes to safety.
Face Mask
Well, helmets certainly keeps your head warm, it's good to put in another layer of protection. A light liner beanie can be the best choice. Not only it provides a layer of protection but also helps in holding the helmet firmly in its place. Just make sure that it does not have a cuff or big seams as these could interfere with the helmet.
Also, you can wear a combination mask and hat similar to a balaclava to keep your face and head warm. A typical face mask can be pulled over the mouth and nose when the temperature dips in drastically. Even if you don't like to ski or snowboard with a mask on, this layer can be pretty helpful in keeping your face warm while closing all the gaps between your helmet and jacket.
Goggles or Sunglasses?
This isn't bike riding, so putting on sunglasses is not recommended when you ski or snowboard. Switching to goggles is a better choice as they help in protecting your face and eyes from harsh wind, sun, and reflection. Do not opt for tight-fitting goggles as after a certain period it can cause discomfort.
You can obviously carry sunglasses to the mountain but not when you are snowboarding. Sunglasses are good when you are spending quality time at the hotel patio or watching out for other snowboarders while enjoying snacks and beverages.
Finding The Best Goggles
To find the best goggles you need to understand the shape and size of your helmet. The shape of your face also plays a major role. For this reason, it is a good idea to buy goggles before placing them on your helmet. Make sure that the helmet does not push the goggles down over to the nose or face. But that doesn't mean leaving a wide gap on the forehead.
The goal is to cover the face entirely or partially depending on the conditions of the weather. Most goggles come with a couple of lenses. One is to prevent sunny days and the another is for foggy or overcast days. It's good to keep swapping the lenses as per the requirement. You can put on both lenses if the mountainous reflection is too much. Remember, you can't ski or snowboard if you are unable to see.
Finally
Hopefully, this information will help you a lot in staying warm and safe while understanding the concept of a snowboard layering system. Always choose those that work well and do not follow others to achieve your desired comfort zone.
No matter what kind of trips you have planned, the magic of layering lies in its flexibility so that you can swap out individual pieces based on the requirement. You don't have to run cold with these recommendations. So, be feet happy and experience the adrenaline rush!