Tandem bikes have unfortunately earned a bad reputation. This is partly due to the poor design of tandem bikes in the early days. It's undeniable that the early models were heavy, hard to control, and rather difficult to use in general. 
A tandem bicycle has a unique frame material. The Tandem bike has mechanical disc brakes for upright riding position. The Tandem bike frame is different for solo bikes from the cruiser style Tandem bike.
There is good news though. Tandem bikes have seen a rise in popularity, and a significant improvement in quality from the early days. 
The best Tandem bikes are an absolute treat for riding with friends, getting a good workout and can even be used as family transport. They're lighter, steadier, and work well for riders with vastly different experience and skills, as well as for experienced tandem biking teams. 
They've even managed to overcome one of the biggest challenges of tandem biking, cycling uphill. 
In light of these improvements, we thought it was time to put together a review of some of the best models of tandem bikes which are currently available. Even if you've never considered tandem biking before, the joys of this shared workout can be intensely rewarding.
IMAGE
PRODUCT
DETAILS
 rating
price

Best Overall

Northwoods Dual Drive Tandem Bike

Weight: 65 lbs
Best Feature: Stylish design, and low learning curve

Best Value for Money

Schwinn Twinn Adult Tandem Bicycle

Weight: 70 lbs
Best Feature: High end parts, highest performance

best design

Trek Tandem Super Deluxe 7i

Weight: 58 lbs
Best Feature: Incredibly stylish, classical design

700c Giordano Duetto Tandem Road Bike

Weight: 53 lbs
Best Feature: Lightweight design combined with high end Shimano Shifters

PFIFF Tandem Bicycle

Weight: 53 lbs
Best Feature: Rear control design

Kulana Lua Single Speed Tandem Cruiser Bike

Weight: 62 lbs
Best Feature: Stylish design combined with hardwearing 26 inch wheels

Micargi Island Tandem Bicycle

Weight: 66 lbs
Best Feature: Shimano parts create a synergistic and incredibly smooth ride
The Review of Best Tandem Bikes
No single model of bike is perfect, and with tandem bikes, you must take more than one factor into account when you buy. Try to keep in mind who you'll be riding with, and your individual needs and preferences when reading each review. 
There are different types of Tandem bicycles. A foldable Tandem bike, kids Tandem bikes, electric tandem bike, recumbent bike and deluxe tandem bikes are some of the common models.
We'll look at some of the most important features of each bike. In addition, we've also put together a short pros and cons list which will help if you're looking for a faster way to evaluate each bike. 
At the end, we've provided a short buying guide. This way, even if we haven't picked the right model for you, you'll know what to look for in a good tandem bike. 
Northwoods Dual Drive Tandem Bike
If you're looking for a good tandem bike that requires little or no initial modification, this is a good option. While it doesn't have some of the most premium parts you would expect on a racing bike or a professional mountain bike, its design is durable and incredibly functional. 
Details such as two water bottle holders have been included. It also comes with two gel saddles which are a lot more comfortable than your average included saddle. You may still want to upgrade them if you want a highly padded saddle which provides a particular kind of support, but otherwise, you'll be well served by the included set. 
This bike is also designed to be relatively easy to mount. 29 inches in the front, and only 20 in the back makes it more accessible to people of different heights, and it is a particularly good fit for parents who want to ride with one of their kids. 
The braking system is completely under the control of the captain, the front rider, but the rear rider also has a handle for added stability and support. 
The Revo twist-style shifter is easy to use and fairly effective, especially when combined with the premium Shimano drive train. 
The heavy-duty kickstand is a nice touch as this bike is approximately twice the weight of a standard single. Its frame is durable, and even rather stylish and eye-catching. The wheels are designed for 2.5-inch-wide tires. This gives you plenty of space for extra grip and maneuverability and makes balancing both people on the bike that much easier. 
The biggest flaw we found with this model is that it doesn't allow for different pedaling speeds or styles. Both riders must pedal at the same rate, although that doesn't mean that the work needs to be shared equally. 
Schwinn Twinn Adult Tandem Bicycle
The Schwinn Twinn is a higher-end version of a tandem bike, and this is where you'll really get your money's worth. This is despite it having a higher price tag than our top pick. 
The biggest differences are the quality of design and durability of the parts. The Schwinn Twin has a sturdier frame design which has been expertly welded in order to minimize stress on the joints while maximizing their strength. 
Its straighter bar design isn't terribly flashy, but it does offer impressive stability for two riders. As with our top pick, you will have to pedal together, but the energy transfer system is good enough for one rider to do the bulk of the work without causing too many problems. 
It also boasts a Shimano 21 gear shifting system. This is a top of the line shifter, and it makes navigating hills much easier, both up and down. It also has an impressive braking system, which is made even more important by the weight of the frame. 
At around 70 lbs, this bike is a good bit heavier than your standard single bike. That being said, it's still lighter than two bikes put together if you compare it to hybrids or mountain bikes which are more similar to a tandem than a road bike in any case. 
The mechanical disc brake system is one of the most reliable options. Significantly more affordable than the hydraulic version, mechanical disc brakes require less maintenance over time. You should, however,  take the bike in for regular tune-ups.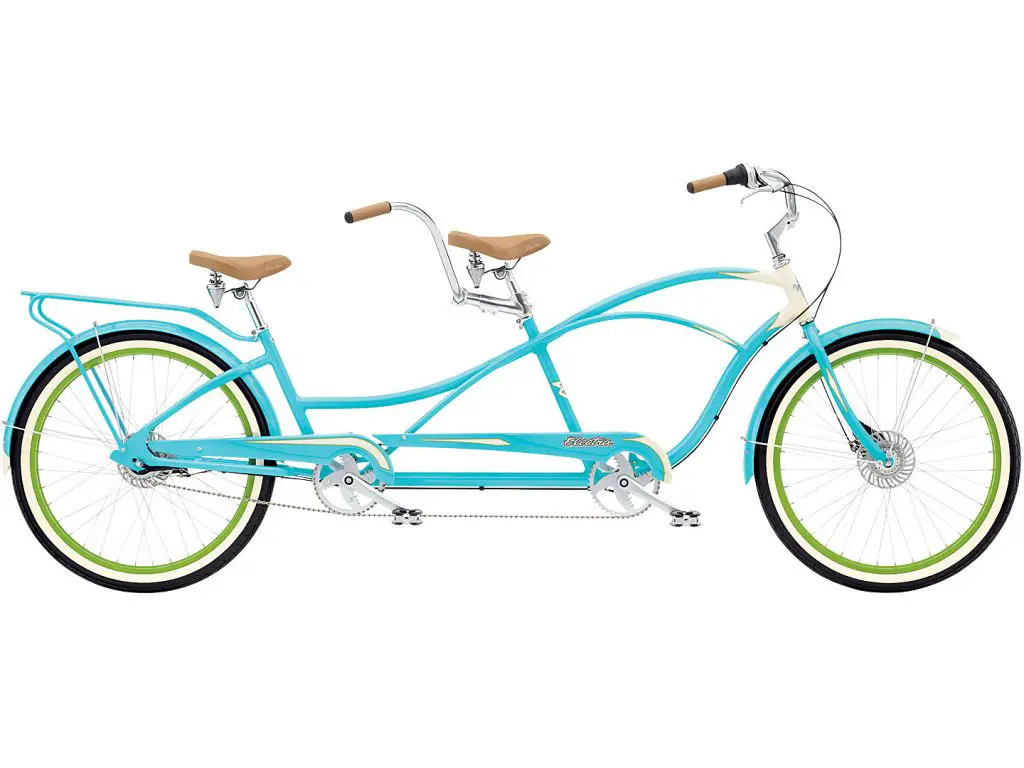 The Tandem Super Deluxe 7i is a good option if you're looking for a tandem bike which is more eye-catching. Its swooping lines and bright colors make this tandem stand out on the road and can make riding it look even more stylish. 
The aluminum frame is a little heavier than we would prefer if this were a competition bike, but as a casual tandem, or even a competition bike in tandem-specific races, it performs well. The aluminum is lighter than steel, without sacrificing the strength and durability you want with a long-lasting bike. 
It also has the added bonus of a flat-foot patented pedaling system. This means that you get the advantages of a design which allows for a more relaxed and upright seated position, and a workout for your most important core muscle groups. Without this system, you usually need to choose one of the two advantages but can rarely find both. 
The wheels, shifters, and brakes are all Shimano made. Shimano is one of the best names in bike parts manufacturing, and their parts are known before being particularly effective, smooth, and long-lasting. Having all Shimano parts in combination also creates a synergistic effect on the bike, where everything works together better than with mixed parts from different manufacturers. 
At 58 lbs, this tandem bike is also slightly on the lighter side, which makes it a good option for more hilly areas. 
700c Giordano Duetto Tandem Road Bike
The Giordano 700c Tandem is a good option if you're looking for a mid-range bike which is a bit more budget-friendly, but which also offers the performance and quality of a more premium option. 
It has a lightweight aluminum frame, combined with an aluminum fork. The fork is where you'll usually find a more durable material such as steel or carbon fiber – steel being quite heavy and carbon fiber being quite expensive. Aluminum is a good middle ground, but you should also expect that the fork will wear out a little sooner on this model than on bikes with a more durable design. 
It's okay, because replacements are available and you'll still get several years of use out of the fork before it needs changing. You can expect it to last longer with good maintenance and care. 
While this bike is considered a road bike tandem, it does have wider tires which are more like those on a mountain bike or a hybrid. This reduces your speed a little, but it also provides you with better grip and control. 
The double-walled wheels aren't anything special, but they certainly aren't a cheap option either. They'll hold up to years of regular use and won't warp or deform. 
The biggest advantage, however, is that this is the most lightweight frame we've reviewed yet. At approximately 53 lbs, this bike is much lighter than many of the other tandem bikes on the market right now. With two riders, this makes it significantly easier to ride up and down hills. 
All in all, it offers good value for money, and with a reasonable set of advantages and compromises, this mid-range bike performs far better than we expected. 
PFIFF Tandem Bicycle
This model is ideal for parents or anyone who is looking for a slightly different design. The shorter captain position (front seat) is a departure from traditional tandem bikes which usually have the opposite design. 
It also offers both riders a complete handlebar and the rear handlebars can be used for both steering and braking. 
This bike really fosters cooperation and teamwork between both riders. It's a great way of bonding with your child, or even for partners to ride as a fun way to spend time together in good weather. The upright position this bike uses for both riders is generally comfortable for cyclists of all experience levels, and shared control encourages communication and conversation while you ride. Also, as you're so close, there's no need to yell in order to be heard. 
The bike also comes with several accessories. The rear rack and front light are probably the most useful, but the double kickstand and bell also add to the bike's appeal. 
At 53 pounds, this tandem bicycle is on a par with the other lightest tandem bike we've reviewed, which is also ideal for parent and child riding duos. 
Kulana Lua Single Speed Tandem Cruiser Bike
The bright yellow paint on this bike immediately calls to mind tropical locations and the fun and relaxation of a good vacation. Combined with the swooping frame design, this is an eye-catching and fashionable option for riders who are looking for a streamlined tandem bike. 
As this is a single-speed bike, it doesn't have some of the features of a geared bike when it comes to handling hills. However, unlike a fixie, or fixed speed bike, it does still offer the option of coasting downhill and on straightaways. 
Single-speed bikes are generally a better work out, but including coasting on a tandem significantly reduces the difficulty for the riders. The half wrap fenders add a touch of retro styling to this bike, while also making it more comfortable to ride through puddles and reducing the risk of splashback from the wheels. 
However, the rear coating brakes, while more aesthetically pleasing than having a lot of wires and cords, come with a significant learning curve and offer a little less control than traditional braking systems. 
At 62 lbs, this is neither the lightest nor the heaviest tandem riding bike. It's a reasonably good option for hilly areas, although riding up hills may be more difficult for new tandem bike riders. 
Micargi Island Tandem Bicycle
This tandem bike is a great option for riders who want a little more space and prefer a traditional head-down riding position rather than an upright sitting position. It's an 18-speed option, which makes it a versatile and easy-to-ride option. 
The longer design of this bike makes balance a bit more of a challenge, but it also makes it both more maneuverable and slightly more technically difficult to maneuver. This combination makes this bike a good option for couples or friends who are looking for something to introduce a little more of a challenge to riding. 
The Shimano shifters and derailleur work wonderfully well together, which can help reduce the technical difficulty a little, while also making it a smooth-riding bike which is a pleasure to use. 
At approximately 65 lbs, this bike is a little on the heavy side. However, in exchange for the moderate, mid-range price point and the high-quality shifters and derailleur, it's still good value for the price. It's best for people with some general experience with bikes, and preferably some experience on a tandem. 
Buying Guide
If you want to know what features really make for a good bike, this is the section you need to read. Keeping the frame, tire size, and gears in mind will help you choose the right bike, whether it's a tandem or a single. 
Frame
The most common frame for a tandem bike is an aluminum frame. Look for frames which have solid welds at the connection points, and lightweight design overall. The weight is probably the most important single consideration as it determines how difficult it will be to accelerate and go up inclines. 
Alternative frame materials are steel, which tends to be significantly heavier than aluminum, and carbon fiber, which is common for single bikes but much less common for tandem bikes. 
If you're looking for a flash bike, the frame is where most of this will come from. Look for a frame which has relatively low crossbars for easier mounting as well as a style you appreciate. The frame design is far more important in terms of style than the paint – paint can always be redone or customized. 
More: Best Fixed-Gear Bike For Men and Women
Tire Size
The size of your tires will largely be determined by the size of your wheels. 26″,  650b, and 700c are the most common sizes, with 700c also being a common wheel size for single bikes. 26″ wheels/tires tend to be the most durable option and best for bikes which are regularly used for a bit more than casual riding. 
Thicker tires are a good thing on your tandem bike, as they provide both additional grip and additional stability. The larger sizes also generally provide more room for brake grip, which can make your brakes more effective overall. 
You should also look for tires with good traction and a thicker design for a tandem. The thicker tread will help the tire last longer and give you better grip, even when the bike is weighted down with both passengers, and even at the edge of its weight limits. 
More: Check Our Guide To The Best Bike For College Students Here
Gears
Gears add quite a bit of versatility and flexibility to your bike. They give you more control over the speed you can attain, as well as how much effort you need to put into pedaling. 
However, adding a shifter and derailleur, which are required for geared bikes, also adds additional parts which require occasional maintenance and will eventually need replacing. 
Single-speed bikes, the other common alternative for a tandem bike, can offer a better workout than their geared alternatives, and they can still coast, which is just as important for reducing the overall technical difficulty of riding. 
Gears range from 7-21, and very occasionally more. The amount you need depends on your personal preferences, but it can take a good amount of experience and know-how to properly utilize a complex gearing system. 
What Are the Benefits of a Tandem Bike?
Many people wonder what the benefits of a tandem bike might be, particularly considering they weren't very popular for a long time. 
The main benefit of a tandem bike is the companionship it offers. Tandem bikes allow you to talk without having to shout, and encourage a feeling of togetherness as well as cooperation between friends, partners, and family members. 
Tandem bikes are also a good way to help a friend or family member build their cycling skills, as well as helping them build up their muscles and endurance. As tandem bikes don't generally require both riders to put in the same effort, but make the best of their combined efforts and strength, you can bear the brunt of the work while allowing a family member to adjust and gradually increase their strength and ability. 
Also, tandem bikes are just another fun way to experience cycling for yourself. Combined with single bikes, tandem biking can provide a new perspective on your hobby. 
Learn More: Best Bike for Senior
Conclusion
Hopefully, this article has helped highlight some of what makes tandem riding such a fun and enjoyable hobby. We've covered some of the best features of each of the bikes and have carefully selected only the best models currently on the market. 
In addition, our buying guide applies not only to tandem bikes, but can also help you to choose a standard bike. 
Tandem bicycles or a Tandem bike have unique features such as rear V brakes, drag brake, urban tires and top quality components such as twist shifters and swept back handlebars.
We know that no one bike is right for everyone, and that is why we've chosen from a wide range of different prices, features, styles, and designs. We're confident in every single model we've reviewed but also hope that this review was helpful, even if you ultimately end up choosing a different model.