Brakes are one of the most important safety features on your bike. Even beginner cyclists should be concerned with the kind of brakes and brake pads on your bike. Expert cyclists commonly spend hours debating the merits of different pads and different configurations for road bikes.
While there are dozens, if not hundreds, of good and effective brake pads to choose from, we've narrowed the list down to some of the most efficient and effective options. 
Even the best brake pads need regular maintenance though, so make sure you're paying attention to your disc brake pads, so you know when they need an adjustment, and when you need to get new pads. 
We've also included a short buying guide at the end so you can tell which features are most important and really narrow down the features and benefits that are most critical for you and your riding style. 
The Best Bike Disc Brake Pads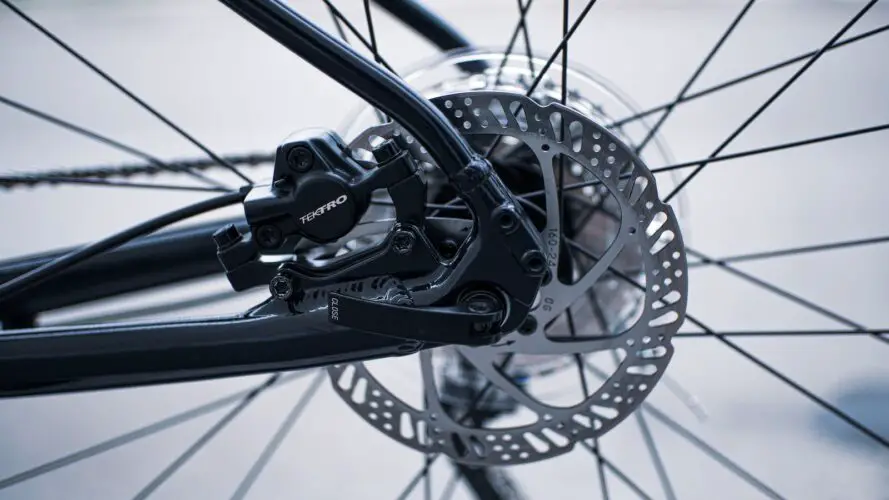 The best bike brake pads are well-balanced and effective tools that make riding a lot safer, whether you're just riding your normal commute to and from work or trying your hand at a more difficult mountain trail for the first time. 
However, it's important to make sure your disc brake pad is compatible with the brake system on your bike. Especially if this is the first time you've gotten new pads or brake pads, it's a good idea to try and match the style of your existing pads. 
Always check what style of brake pad you need before picking the kind you want for the road bikes. That way you won't decide you need a different style. Of course, you can often upgrade your brake style if you want to. 
We do recommend taking your bike to a professional shop to make that kind of component change. Brakes are a critical safety system, and the last thing you want is a bad installation making them more difficult to use. 
Swiss Stop FlashPro Original Black Brake Pads
These bike brakes are designed specifically for use with carbon fiber wheel rims. They're compatible with most Shimano and similar design brakes and provide reasonable stopping power. Best of all, since they are designed for carbon fiber rims, these brakes are also very quiet in operation. 
That's right, these brake pads don't squeal on your carbon fiber rims. 
The deeper grooves on this new brake pad design also improve the all-weather performance of road bikes. The grooves reduce the chance of slippage in high-moisture conditions, while also improving the flexibility and responsiveness of the brake pads in the cold. 
Altogether, there is very little performance difference between ideal conditions and messy weather with these brake pads, making all-year cycling possible in almost any climate. If you can handle the weather, so can these pads. 
However, these disc brake pads are specifically for carbon rims. They have a much shorter lifespan used on most aluminum rims, with better and more affordable alternatives available that have been designed for those aluminum rims. 
Key Features:
Quiet on carbon rims
New design offers good all-weather performance
Responsive without being too sudden 
Mid-range lifespan for disc brake pads
Specs:
7 x 3 x 1 inches
1.44 ounces
Model year: 2015
Designed for caliper brakes
SHIMANO 2 Pairs Disc Brake Pads & Spring B01S
Shimano is known for producing some of the best components for your bike, and even their replaceable parts like these disc brake pads meet those high standards for performance. 
These resin brakes are explicitly designed to work with compatible Shimano disc brake systems. Matching your brake pad to the brake, including not only design but manufacturer, is a great way to get optimal performance of road bikes or mountain bikes from both parts. 
The resin offers better long-term performance than metal disc brakes or sintered pads, and also helps to more evenly and smoothly modulate speed. Performance is similar to these brakes on pavement or on mountain trails. 
Resin is also slightly quieter and more pleasant to use overall than metal brake pads or sintered pads. 
This set comes with two pairs of disc brake pads. The design doesn't include a radiator fin or cooling fins, making these resin pads or resin disc brake compatible with a wider range of Shimano disc brakes. Always check just in case, since these aren't universal Shimano disc brake pads, not all of them will be compatible. 
Key Features:
Quieter operation
Smooth speed modulation in all conditions
Resin lasts longer
Good in most weather conditions
Wider design for better grip
Specs:
Resin coating
No radiator fin or cooling fins for Shimano compatibility
6.7 x 5.1 x 2.8
2.88 ounces
Shimano BR-CT91 Cantilever Brake Shoe Set
These brakes are yet another design, this one to work with cantilever brake designs. Coming from Shimano, these are an affordable yet high effective design, with a wide range of compatibility with different kinds of brakes. 
This design is relatively slim, making it easier to install and use on average than most other brake designs.  
Depp grooves in this design, like the first set of brake pads on this list, also help improve the all-weather compatibility of these brake pads. However, they still offer better performance in dry conditions than wet conditions and aren't quite suited for truly all-weather riding. 
If you live in a relatively dry climate or don't like riding in weather, the cost savings on these disc brake pads might be worth the reduced performance in some conditions. 
These resin brake pads are also a good alternative to the Shimano Altus series, making them widely compatible with many different manufacturers and road bikes.
Key Features
Highly affordable design
Wide compatibility
Soft rubber for quick response times
Relatively long-wearing
Easy install
Specs:
2.72 ounces
Smooth post
Standard pad
The Flying Wheels Complete Bike Brake Pad Set, 70mm
Designed to work with most v-brake designs, the Flying Wheels offers a good balance between a performance setup and a more affordable bike brake pad option. They use unique threading technology to help improve the grip and provide more responsive brake performance on the road. 
These V-brake pads also have a unique compound for the pad. They're designed to get rid of the plastic-y feel of cheaper and less durable brake pads. They offer better grip for smooth modulation. 
They're also relatively quiet brakes, designed to minimize the squeal you get with more use. They aren't completely silent, but they are a good bit quieter than many alternatives. 
The compound has heat dissipation and scratch-resistant characteristics, helping them last significantly longer. They're also more resistant to the higher heat dissipation of riding on paved streets and asphalt in the summer. 
That doesn't mean that these brakes aren't suitable for trail riding though. If your mountain bike has a compatible set of V-brakes, chances are these disc brake pads will serve you well. 
You also get a complete installation kit with these brakes, including specially designed nuts and washers to hold the pads exactly where you want them. 
Key Features
Unique pad compound adds more durability and grip
Smooth speed modulation
Heat resistant and scratch resistant, great for summer riders
Comes with everything you need for installation
Specs
4 x 70mm disc brake pads
1.44 ounces
Threaded post
Two cooling holes
Needed nuts and washers included
SHIMANO BR-6700 Ultegra Caliper Pad Set (Road)
Another affordable Shimano brake pad, this set is about as close to a universal caliper brake pad set as you can get. They're compatible with all Shimano caliper brakes, and worth with a wide variety of other brands as well. 
That way, even if you don't have Shimano for your braking system, you can still get some of the responsiveness and precision through the brake pads themselves. 
This set is a reasonably affordable option, with a slightly more durable and responsive compound for the pads themselves. They last a little longer than many disc brake pads in this range and resist scratching and tearing. 
The alloy used for the brake pad holder is lighter weight than many alternatives, a good option since it helps you keep the total weight of your bike a little bit lower. Despite its low weight, the alloy is still strong enough to hold the disc brake pads securely, and to resist damage from flying rocks and other common bike hazards. 
Key Features
Lightweight metal holder alloy for better performance and durability
Great grip for most road conditions and tough braking surface
Reasonable all-weather performance
Easy to make adjustments
Specs
5 x 3.75 x 1 inches
Reference number: BR-6700
Standard size
Alritz Bike Brake Pads Set
Another V-brake brake pad system, this design's thick V-shaped groves provide superior performance in all kinds of different weather conditions (including wet and muddy conditions and dry conditions) and rough braking surface. In addition to the v-shaped groove, two diagonal grooves improve moisture-wicking performance. 
The compound in the disc brake pads themselves is reasonably durable. Its grip power allows for smooth braking, as well as faster stopping power when it's needed. A combination of hard-wearing rubber and a lightweight aluminum alloy makes them effective without adding a ton of additional weight. 
However, that added durability does mean that you may need a little more pressure on the brakes to get the stopping power you need in a pinch. 
A slight curve in the design still works well on most bike rims, without damaging rim, brake, or tire. It also increases friction, helping to improve the responsiveness of the design slightly. The curve also helps to reduce the sound of the brake on your rims, making it a little quieter. 
Each pad comes with one nut and five spacers to give you more customization options as well as improving the compatibility with different brake systems. 
You also have the option of three different colors on the brake pad. While customization is a good thing, it's still a minor detail. However, look fast, go fast, right?
Key Features
Curved design for better grip
Durable rubber compound
Lightweight aluminum alloy 
Comes with the nuts and spacers needed for installation
Specs
Sand guide grooves reduce sand damage
Unique patterning for added all-weather performance
1 hex nut and 5 spacers included
3 pairs of 70mm brake pads
Tektro Disc Brake Pad
Tektro is another big name in brake design and brake pads, so it makes sense that they would have at least one offering on this list. Another disc brake pad design, these pads are a good fit for a wide variety of disc brake designs and are even compatible with some Shimano made brakes. 
The organic compound on these organic pads provides a lot of stopping power with little drag and less noise. They're quick and responsive, without pulling on the wheel or limiting your control over the bike unlike noisy brakes. Great for slight adjustments in speed as well as more urgent stops when you're in a hurry.
Despite having wider compatibility, these brakes were designed with the Orion Series, Gemini Series, Auriga Series, Draco Series, Aquila, HDC 300 & 330, Aries, and Mira brakes designs in mind. If you happen to have one of those brakes, you can expect somewhat improved performance from these disc brake pads. 
These are sold in 2-packs and can be used on both front and rear wheels. 
Key Features
Long-lasting organic pads compound
Good grip with high stability
Durable in most weather conditions and rough braking surface
Wide range of compatibility with Tektro and Shimano brake designs
Specs
Model year 2017
Unique organic pads compound
0.16 ounces per pad
Standard disc designs
Buying Guide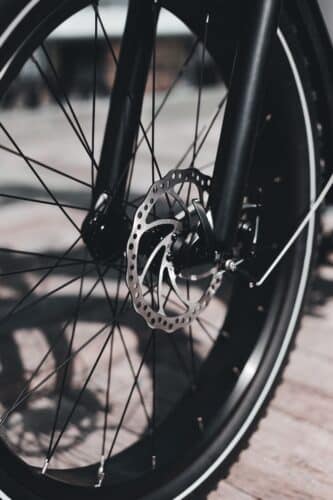 Now that we've gone through some of the best brake pad options you can choose from; It's time to take a closer look at the make it or break it features you should consider on all disc brake pads. You may not always be able to get a brake pad that excels in all of these categories, but you should always consider each of them. 
Also, think about how you use your bike. All-weather performance might be less important if you hate riding your bike in wet conditions, or in extreme cold or heat. 
Similarly, you might not need as much adjustability from your brake pads if you aren't a very experienced rider and don't tend to tweak your brakes very much between regular tune-ups. 
But if you are a more experienced cyclist, or you want to start trying your hand in competitions and races, it's worth spending a little more to get more flexible brake pads. Look for pads that check all your most important boxes. 
More: Best Headphones For Cyclists
Adjustment 
Adjustment is one of the more important features of your disc brake pads. You can make small adjustments to determine how reactive your brakes are, as well as how and where the brake pad contact the bike. While these adjustments are very small in terms of how much the brake pad actually moves, they can make a big difference in terms of performance. 
If you're a relatively new cyclist or one who prefers to adjust your riding style rather than your rig, you can probably get away with brake pads that need little or no adjustment. 
If you're experienced, or someone who prefers to customize your bike to suit your needs and riding style rather than matching your riding to the bike, adjustable resin pads can be a boon. 
How adjustable a pad has more to do with the design, and its intended application, than with price. There are cheap brake pads that are finicky and need a lot of adjustments and re-adjustments. There are expensive brake pads with very few adjustment options.
You can expect to see everything between those two extremes. The easiest way to tell whether you're brake pads are highly adjustable, or not very flexible at all, is to look at the manufacturer description and customer reviews. 
Words like customizable and flexible in the product description generally indicate how adjustable the disc brake pads are. It can be as simple as including additional spacers or having a few screws that change the angle of the brake pad. But those small differences add up. 
More: Best Bike Phone Mounts Review
All-Weather Performance 
All-weather performance is exactly what it sounds like. Brake pads with good all-weather performance don't need your wheel rims to be perfectly dry, or within a set temperature range, so much as they need regular maintenance and good contact with the rims. 
Install brake pads that are designed for all-weather performance correctly, and they'll work well in most conditions, including wet and muddy conditions. 
There are a lot of ways to tell if a brake as good all-weather performance. In caliper and V-brake brake pads, one of the best indicators is how many deep grooves there are between different segments of the rubber or compound pad. Those grooves help wick excess moisture away, letting the next section of each pad grip better. 
Those grips also help to improve the flexibility of each pad, letting it grip the rim of your wheel a little more firmly. 
In disc brakes, since the braking mechanism is different on the braking surface, the materials used on the brake are usually more important than the design itself. Though, as with all resin pads, more contact with your wheel translates to more stopping power. 
Metal brake pads are popular thanks to their higher stopping power. But they aren't always as reliable in wet weather and can add additional wear and tear on your wheel that organic composite, resin, and other softer material brakes.
More: Specialized Power Saddle Review  
Pad Backbone
Think of the pad backbone as the protective shield around your brake pad materials. It's not the pad itself and should never directly contact your bike wheel, but that doesn't make it less important. 
The main purpose of your brake pad backbone is to make sure the pad doesn't wear out early. It does that by preventing rocks, sand, and other airborne debris from hitting the back of the pad. Some also help to provide shape and additional structure for your brake pads, preventing them from stretching too much in use. 
Not all brake pads have much in the way of a pad backbone. The harder the pad material is, the less need there typically is for a pad backbone. But, even if you can't see the backbone, there always is one. 
It's more important to consider the pad backbone the more noticeable it is. Brake pads like the SHIMANO BR-6700 Ultegra Caliper Pad Set we reviewed have a very noticeable pad backbone, and it's therefor a more important part than pads with less noticeable backbones. 
Look for lightweight alloys. They should also be rust and corrosion-resistant. Consider how well the alloy will stand up to getting his with small rocks or blasted by sand on the trails. The more resistant it is, the more likely you'll be able to avoid having to replace brake pads early. 
More: Selle Royal Respiro Moderate Bicycle Saddle Review
Materials of Pad
When choosing between different brake materials consider how that material will respond when wet, cold, or very hot. You should also think about how easily the material will wear down. 
Softer rubber brake pads often offer better performance and faster-stopping speeds, but also wear down faster than a harder rubber. That general rule holds true for most brake materials. 
Soft is more effective, up to a certain point, but also less durable and more likely to need early replacement. Harder materials are less reactive and a little harder on your bike's wheel, but last longer and are more durable in rough conditions. 
You should also minimize the risk of metal-to-metal contact, except in the few rare cases where your wheel and brakes are both designed to be able to handle that kind of friction. 
Disc brakes are usually where metal brake compounds are used. On metallic pads or semi-metallic brake pads compounds are fantastic for longer downhill use since they are much more heat resistant than other alternatives. 
More: Best Bike Seat for Heavy Rider
Most brake materials are relatively similar in the same category of brake system. However, some manufacturers have specific blends they use for their brake pads. If you really enjoy any one brand of brake pad, consider getting the same brand again since they may be the only ones using that brake compound. 
Type of Brake Pad
Rim Brake Pads
Rim brakes are a relatively simple mechanism. The disc brake pad is positioned next to the wheel rim, usually at the apex of the wheel. It's held in place with a set of pivoting cantilever arms. When you trigger the brake, the arms put pressure on the wheel rim, slowing or stopping the bike. 
Rim brake pads work best when the handlebars are level, but they are simple enough to perform well in most circumstances. 
Rim brakes can be relatively weather sensitive, so it's usually worth spending a little more to get brake pads with higher weather resistance and all-weather grip. 
The brake pads on rim brakes also often need to be replaced slightly more often than other styles of brake pad. 
Disc Brake Pads
A lot of more experienced cyclists prefer disc brake pads because they offer a much faster reaction time, slowing the bike more quickly than other braking styles. These are often slightly more expensive than other brake styles, along with slightly more expensive brake pads. 
However, they make up for some of that additional expense by being a little more durable than their rim-brake counterparts. 
Disc brakes are often metallic pads (a few are semi-metallic brake pads too), but they can also be made from a number of other materials. As a general rule, no matter what material is used, it's harder and smoother than the materials used on rim brake pads. 
These metallic pads are also applied in a different location, near the rotor at the center of the wheel instead of on the rim at the outside. They also rotate to further help counter the rotation of the wheel, unlike rim brakes. That combination means that they make significantly better use of friction. 
That more efficient system is a big part of what makes disc brakes the preference of so many cyclists, as well as what gives them greater stopping power than your average rim brake. 
Combination
If you're an all-weather cyclist, you may want to consider upgrading your bike to a combination braking style seriously. 
Combination brakes are exactly what they sound like. They use both a disc brake at the rotor and a rim brake on the wheel. The two brakes are generally simultaneously triggered, which gives much greater responsiveness. 
Since you're slowing the wheel at two locations, and therefore spreading the friction stress between the two brake pads on each wheel, the pad also tend to last a little longer with this design. 
More importantly, combination brakes are the most reliable in all weather conditions. They don't have the slickness failures rim breaks can have in cold wet weather and are more effective in the heat or high temperatures than disc brakes alone. 
While these brakes are infallible, it's certainly worth a little extra investment to get the increased performance. Especially if you're looking at racing, going trail riding in rough weather, or other technically challenging rides, combination brakes are a good option. 
More: The Best Commuter Bike Helmet 
Conclusion
Your bike's brake pads aren't something you should just replace every once in a while and never think about again. The brake pads are just as important for the overall performance of your bike as the brakes themselves. If either isn't working well, neither will your bike. 
But like most bike components, what works best is as much about how you use it as it is about the quality of the materials and the components themselves. 
Before you buy your next set of bike brake pads, consider how you use your bike. Make a list of the two or three most important features in your brake pads, and make sure you know what kind of brakes you're using. 
You should also not the material used in your wheels to make sure you get a brake that works well with the texture of the wheel itself.